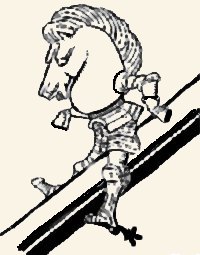 Cooper's Page
Here he is with my new Vibram Five Finger shoes and toe socks. April, 2010
(click to enlarge, as always)
---
AT Mom's house, after Dad's Memorial March 27, 2010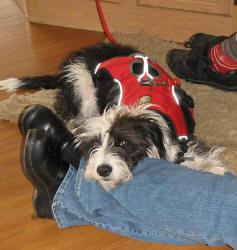 (click to enlarge.)
No more wheelchair rides, I guess.
---
September 2009, with friend Dave on my porch. Murr Brewster is the photographer. Cooper has been christened an "Imperial Podunk Terrier" (Impie for short), a unique breed, and destined to stay that way, since he was "tutored" at the Humane Society before he came home with us.
(click to enlarge.)
---
August, 2009 trips to the Cafe with Papa (Bob) in the wheelchair, and Cooper. First Mom (Ruth) pushes, then I take over, then Papa pushes and walks while Cooper gets up in his rightful place.
(click to enlarge.)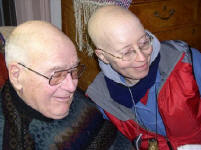 (click to enlarge.)
Bob (Papa) and Me (Mary Ann) in 2007, during my chemotherapy. Notice any family resemblance? I am fine now, with hair and everything -- well, no boobs, but everything that matters.
---
Cooper's first week, male, neutered, probably Terrier Mix, about a year old, August 1 - 6, 2009
(Click on any picture to enlarge it!)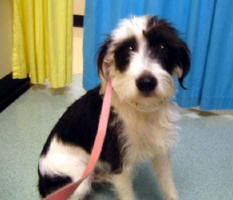 As Dreamer, #78872 at Oregon Humane Society, July 30
He loves Razz, the Cooleroo bed, and the Fur Ball.
On the porch, August 09, 2009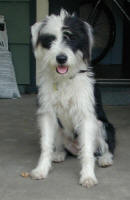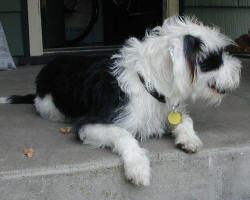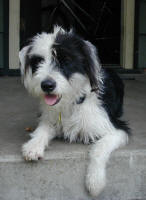 Doesn't he look more relaxed and secure than he did a week ago? This is the day before he had his first bath.
Copyright © 2009 Mary Ann Dabritz