(Click on pictures to enlarge them.)
Afghan Hound
( 4" x 2 3/4" )
(Click on pictures to enlarge them.)
Airedale Terrier
(3" x 2 ¼")
(Click on pictures to enlarge them.)
American Bulldog
( 3 3/4 " x 2 3/8 " )
(Click on pictures to enlarge them.)
American Foxhound
( 3 " x 4" )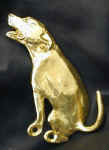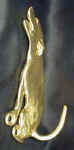 (Click on pictures to enlarge them.)
American Pit Bull Terrier
( 3 3/4 " x 2" )

(Click on pictures to enlarge them.)
American Water Spaniel
( 3" x 2 1/2" )

(Click on pictures to enlarge them.)
( 3 5/8"h x 2 1/2"w)
Australian Kelpie
(Click on pictures to enlarge them)
(3" x 2 1/4")
Australian Terrier
(Click on pictures to enlarge them.)
Australian shepherd
( 3 1/2" x 2 1/4" )
(Click on pictures to enlarge them.)
Basenji
( 3 7/8" x 2 1/2" )
(Click on pictures to enlarge them.)
Basset Hound
(4" x 2 1/4")

(Click on pictures to enlarge them.)
Basset Hound, profile
( 3 1/2" x 4" )
(Click on pictures to enlarge them.)
Beagle
( 3" x 2 1/8")

Free counters provided by Honesty.com.
$35 each. Quantity discounts available ($30, $25).
Decorative bronze hooks; dimensions (height x width) given are approximate.
2¼ "to 4" tall with a tail, paw, or hook extending up about 2" to 3",
to be used on flat surface [wall, shower, door, or cabinet] from which to hang items such as:
coats, robes, towels, keys, etc. Oval head screws are included and will fill the holes
in the paws of bases of each hook.
Oval head screws included.