Link to My Site
If you would like to be linked to my site, please let me know (email me). I will check out the site and let you know.
This is the link to my site:
A Cast of Characters - Hand cast bronze hardware. Specializing in Fox Hunt Hardware, Dog and Animal items (lots of others items available, too). Hooks, Drawer Pulls, Cabinet Pulls, Napkin Rings, Door Knockers, House Numbers, Clicker Pendants, Scarf Rings, etc.
Heart Scarf Rings Brand New!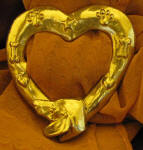 Dachshund Heart Scarf Ring
Picture URL
http://www.castofcharacters.com/srheartdogs/srhdachsyfs.jpg
Custom orders Welcome. 100% guaranteed!
Pages linked to: http://www.castofcharacters.com/index.htm