BRONZE Buttons Fox Hunting Theme (With Miscellaneous Animals and Dogs):
Fox Hunting theme (and dogs), page 1
Any of these items are also available with a coppery brown patina, or with nickel plating (satin finish). There is a small fee for adding a patina and an additional charge for nickel plating. (Click here to see fee schedule.)
(Click on pictures to enlarge them.)
Patina (dark coppery brown); natural bronze; nickel plating with a satin finish
Here are representative pictures of a side and back view of these bronze buttons (oversized pictures). You can see the signature and copyright on the back as well a a quarter for scale.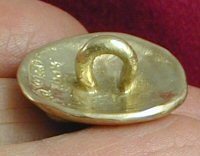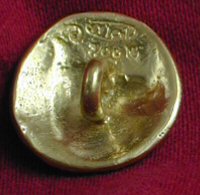 $10 each
Quantity discounts available ($8, $6)
$10 each
Quantity discounts available ($8, $6)
Some of the pictures are darker or have an orange cast to them because of the lighting. If you look at the pictures with the quarters in them, you will get a better idea of the actual color of the pieces.
You can pay instantly by clicking on the PayPal logo below:
Or go to: https://www.paypal.com/
To place an order, check our information
or you can email us at sculptor@castofcharacters.com
or call us toll free at 1-888-495-1090
Copyright © 2006 Mary Ann Dabritz