Home of Characters!
Click on the area you would like to see!
New Toll Free Number 1-888-495-1090
Any of these items are also available with a coppery brown patina, or with nickel plating (satin finish). There is a small fee for adding a patina and an additional charge for nickel plating. (Click here to see fee schedule.) (Nickel Plating not currently available)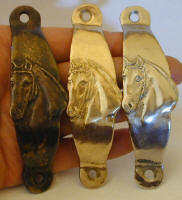 (click on the picture to enlarge it)
Patina (dark coppery brown); natural bronze; nickel plating with a satin finish
Testimonial
I must say, Mary Ann, that your packaging and presentation for this item are some of the most professional and attractive that I ever ever seen. You REALLY have yourself together in your business. I am so very impressed.
Rebecca Peffer, Grantsboro, NC
(Link to site with wonderful Traditions! Dog Tiles http://www.traditionstile.com/)

Click on "A Cast of Characters" Button to see how we make the lost wax cast bronze hardware on this site.
For more information or custom orders, contact M. A. Dabritz at sculptor@castofcharacters.com.
A Cast of Characters
1631 S.E. Main
Portland, OR 97214
tel.: (503) 234-3851
We accept Pay Pal

Visa, MasterCard, American Express and Discover Cards. For Ordering information, click here. Specify style & number of items when ordering. Don't forget to check the quantity discount page. This site is still under construction, and I will be adding new features (Order forms, new hardware, etc.) and updating the site frequently. Thank you for your patience and your constructive suggestions.

Mary Ann Dabritz, sculptor@castofcharacters.com.
All orders shipped by Priority Mail. $7 Shipping and Handling charge for any order within the US.
Copyright © 2005 - 2010 Mary Ann Dabritz